Welcome to
Miss Fit Academy's
exhaustive and important list of the greatest pole dancers ever! "Greatest" is, of course, subjective. Some pole competitions rate athletic ability on a large scale while others value creativity. But those of us lucky enough to call ourselves a part of this, mostly, sisterhood, know a rad pole dancer when we see one. Feel free to add comments with your own top five pole dancers and make yourself part of this exhaustive and important list of the greatest pole dancers ever. Lets jump right in with
our
top five:
Felicity Logan
Felicity does what any good Scottish lass does; she kicks ass. She could probably kick her own ass, and not figuratively, either. She can literally touch the top of her foot to her own booty. At times her extreme flexibility makes her appear inhuman. Just like a wet spaghetti noodle dancing up your spoon!
Logan is presently Miss Pole Dance UK runner-up and winner of "best tricks," and it's not hard to see why.
It's amazing to see.
She came in second place this year to the artistry of
Lorna Thomas
and the year before that to the iron-clad body named
Sarah Scott
, but that is not to take away from the creativity of Felicity's acrobatics.
Type "Best pole dancer ever" into YouTube and the first six videos that pop up for your consumption are starring the great Jenyne Butterfly. An Exhaustive and Important List of the Greatest Pole Dancers Ever wouldn't be complete without a visit from the pole dancing monarch, Jenyne. She posted up as champion of the very first USPDF and runner-up in the world back in 2009, and has since been traveling the world giving workshops and
appearing in movies
. She is co-founder of Mariposa Entertainment Artists and she's currently busy as new mom to little Angel and dancing as dirty Diana in the cirque du soleil show, MJ One.
Anastasia Sokolova
Ana made it to the final round on Ukraine's Got Talent.
She transcended the puritanical link in our minds between pole dancing and stripping and had people calling their kids in from the other room to see
a girl on a pole during prime time.
She was robbed by some peppy polka band. A large woman with a mole and her rag-tag band of moms dressed in jewelry by Hobby Lobby and Leiderhosen rejects made off with one million USD and the pride of a nation. I guess it's hard to recognize good entertainment when you have Russian tanks in your front yard. You'll have to excuse us, we're a tad disappointed with Ukraine right now...
Natasha Wang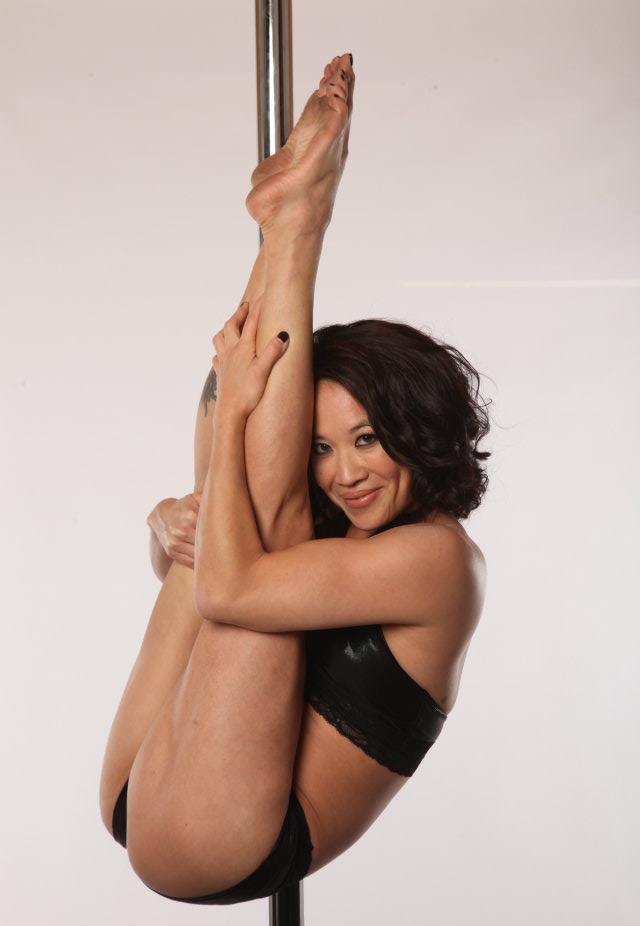 If American audiences ever hope to see a pole dancer on TV during the evening, our best hope is Natasha Wang. She's artistic, creative, strong, controlled, and her stage presence is kinda' bonkers. My, god. Somebody put Natasha Wang on So You Think You Can Dance, already! We're actually thinking of writing them a letter on behalf of anyone with eyes.
Dear SYTYCD,
HOW
ARE
YOU
MISSING
OUT
ON
ALL
THIS!?!?
Sincerely,
A.W. Eyes
Felix Cane
Felix Cane showed up out of nowhere in 2006 at the Miss Pole Dance Australia National Championship. She had begun taking pole dancing lessons several months prior and wanted to participate in something that she obviously loved intensely. This beotch proceeded to win every competition she ever entered, EVER, in her career as a competing pole dancer. Dang, girl! By 2010, she was reigning World Champion with nine titles under her sparkly belt and has since been snatched up by two Cirque De Soleil shows. Her extension is insane, her lines are perfection, her stage presence unparalleled, and her moves adopted as cannon in the pole dancing world. See her first performance
after recovering from severe injuries suffered in a car crash in 2011: