So you've finally carved out some space in your home for your very own pole room. Miss Fit Academy is happy to hear that you're upping your home practice arena game and we wanna help. Here's a handy list of inspired ideas to help you create a space that's really your own.
A wall stencil
Since it's recommended that you keep 5-6 feet on all sides of your pole clear of furniture, there's often not a lot of room to put things in a personal dance room. Smaller rooms may only allow for a chair tucked away in the corner. Girls are often resigned to decorate the walls and possibly the ceiling. Art is, of course, subjective, but a wall stencil can create a dramatic statement in any room. Thanks to the beauty that is the Internet, there is a
surprising variety
to choose from. You can't go wrong with a silhouette of your favorite trick for a background (think of the unlimited options!).
Lighting
Nothing sets the mood quite like lighting. The right lighting can turn even the most sad, mundane area into your own personal sanctuary. Blue lights are soothing, pink lights are girly, white lights are softening, red lights are sexy. Check out some samples of light colors and find what speaks to you. These
handy wall clips
make it possible to put lights just about anywhere in your home - the sky is the limit!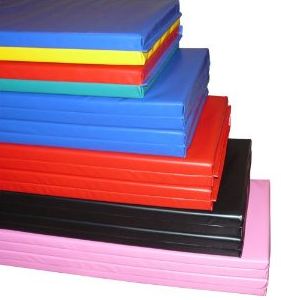 If you're new to pole dance, you probably don't need heavy duty mats for your practice space. But, you should be thinking about your safety as soon as you're inverting. Consider that many new holds require a spotter in a studio and you're more likely to be alone whilst practicing. Many companies make mats specifically for poles - ready made to wrap around that pole with ease. Gymnastic mats also make a good covering for your ground. Even a trip to Walmart for some of those interlocking foam kindergarten pieces is better than a bare concrete or wood floor!
Mirrors
Try to include a large mirror, if possible, so you can see yourself should you want to work on perfecting your lines. If that isn't in the budget then several smaller mirrors on the same wall could fit the bill. Include some gauzy fabric that you can drape over the mirror for those times when you want to focus on the feeling of movement rather than on your perfect, but slightly imperfect hips and booty.
-written by JLK