If there's a party in your future, do we have a fun and easy way to personalize your invitations! This is a great activity to get your girlfriends together and make your own wine soaked invitations to a bachelorette party. If there's two thing
Miss Fit Academy
loves, it's an excuse to hang out and wine! Lets get started on our easy DYI bachelorette party invitations...
The finished product is chic, fun, and simple!
Supplies:
Card stock
A printer or preternaturally good handwriting
a plate
A glass or glasses with a wide brim
3 various wine colored paint (or actual wine because WINE!)
The secret to humor is SUPPLIES! -Aristotle (sort of)
1)
Print or write the information for your party in the lower right corner of your invitation.
Be sure to include: The date
The time
The hosts and bachelorettes name
An address
RSVP phone number
Printing gives the invite a more formal feel, while writing in your own hand is friendly!
2)

Mix paint until you have three separate shades of wine. If you're lucky, you can find paint in a specific red wine color, but more likely you'll have to mix browns, pinks, and reds until you're satisfied. You may want to add some water to your paint to achieve a more wine-y consistency.
Any glass will do, but we like to be authentic.
3)
Place paints in a shallow dish and roll the brim of the glass or paint around the edges with a brush. More than one size glass will add variety. Place on the paper like a stamp to make what looks like the stain of a wine glass.
Perfection is not the name of the game. A broken stamp looks more realistic!
4)
Repeat at least three times.
Tada!
If you're not the crafty type, here are a few ready to use templates you can personalize for the occasion!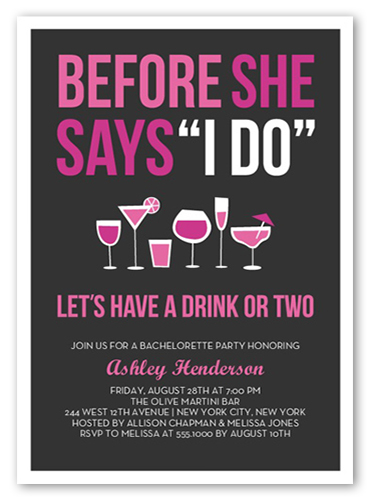 - written by JLK