Miss Fit Academy sees more brides than the inside of a church. We are a church of sorts - we worship our bodies and our skills give back to the community ;) Ha! Um, anyway... Our brides come in all shapes and sizes but we know they all have impeccable style. They did pick
Miss Fit Academy
to host their bachelorette party, after all. Still, for their (and your) consumption, we present the gorgeous collection of wedding dresses and their ugly counter parts for us all to swoon over. But also to point and laugh at, because that can be fun too!
Colorful
Not all wedding dresses are white. Our culture wears white thanks to Queen Victoria's trend setting nuptials in the 19th century. It's still common for Chinese and Indian brides to wear red to symbolize auspiciousness. But really, anything goes these days... whether you walk down the aisle in an exquisite butterfly dress by
Luly Yang
or a less than exquisite wedding gown by
Agatha Ruiz de la Prada
.
Low-Cut
Not so gorgeous low-cut dress:
Dress number one is absolute perfection. Dress number two is an absolute face palm. At least you know the first bride can do the YMCA without violating city decency ordinances. Here is a text book illustration of needing to know your body before committing to a dress. A woman who is blessed in the decolletage department probably can't get away with a low cut bridal gown unless a construction crew built her undergarments. We can almost hear that dress groaning under stress.
Sheer Lace
Gorgeous sheer lace dress: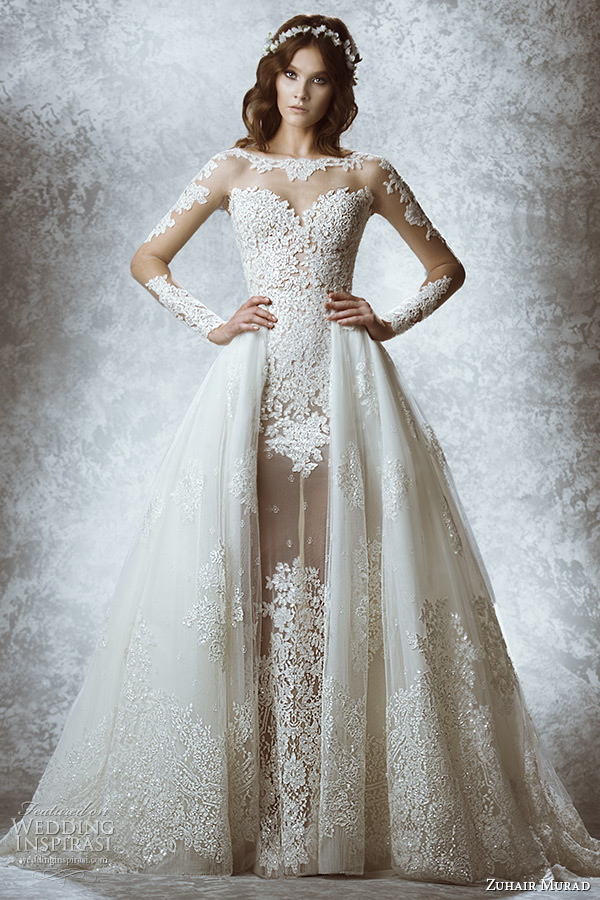 Not so gorgeous sheer lace dress:
The extraordinary
Zuhair Murad
dress is proof that sheer can be chic and lace can be lady like. The bottom picture… not so much. It appears to have a tulle train coming off the back of the barely-there bottom so that's something. As different as they are, these dresses actually have a lot in common- both brides manage to only barely cover their lady bits and still cover their belly buttons, both emphasize covering the back of the legs, and both are long sleeved. However, one is obviously more successful in being both classy and sexy and if we need to tell you which one that is then…well, you just do your thing, girl.
Cut-out
by Alvina Valenta
Not so gorgeous cut-out gown:
Here is yet another instance of not knowing what looks good on your body. Adding a baby bump into the mix adds a new dimension (literally) to dressing. Even this bride seems to know she's made a fatal style error. It's so easy to venture into tacky territory when showing skin is involved, but the first picture is proof that cut outs can be adorable, whimsical, and romantic.