Looking for some guidance to buy a gift for the aerialist in your life?
Miss Fit Academy
can help. As Nashville's premiere Aerial Boutique, we have first hand knowledge of the kinds of things aerialists neeeeeeeeeeeed to
LIIIIIIIIIIIIIVE
and practice their craft properly.
Looking for some guidance to buy a gift for the aerialist in your life?
Rigging
Aerial silk necessities will run a dancer
$200-$250
, so it's not a small investment. Any little bit helps! Often you can find gift certificates to use towards the purchase. low-stretch fabrics are choice for beginners, but medium-stretch is ideal for more advanced performers. Bear in mind that some silks can come in hammocks, but a full length silk can be converted into a hammock.
A Home Pull Up Bar
They're gonna' need it!
Leotards/tights
There's a reason we often see aerialists in full length body suits. You want fabric that covers the back of your knees and probably a shirt that covers your midriff, or expect it to ride up. Don't even think about shoes, because they come off before anyone gets off the ground. If your dancer is into shoes, try
pole dancing
or hoop dancing!
Also, cute clothes like...
Rosin
Rosin is great if you love a particularly sweater dancer. It creates an amazing flypaper effect on the fabric. Rosin is basically pine sap, so it's easy to understand how it might aid in grip. It's wonderful when working at altitude or learning a particularly hard trick, but it's also easy to get addicted to. A little will go along way!
This Phone Case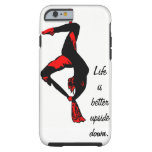 Brought to you by
Zazzle
, this is an iphone 6 cover is universal. Others are out there for different models.
Membership to a Studio
You can learn anything on the internet these days, but consider the benefits of a trained professional; they will ensure that you stretch properly, teach to each individual, and follow important safety protocols. Never underestimate how crucial a spotter can be. :) At least, that's how we do things at
Miss Fit Academy.
We would love to see you, if you live in the Nashville area. If not, then a quick google search will point you in the direction of your local circus school. The internet isn't useless, after all. :)
- written by JLK
5 Perfect Christmas Presents for Aerial Silk Dancers 5 Perfect Christmas Presents for Aerial Silk Dancers 5 Perfect Christmas Presents for Aerial Silk Dancers 5 Perfect Christmas Presents for Aerial Silk Dancers